3/10/2023 - 8:30 PM Uhr
Cabaret: Ninderscht isch nicht (in german language)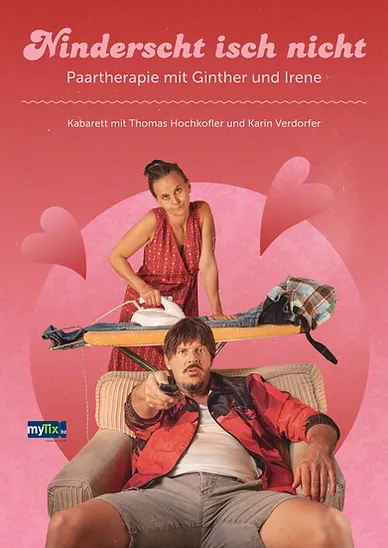 Couples therapy with Ginther and Irene
After the successful cabaret "Schaffa Schaffa, Häusle baue", Ginther (Thomas Hochkofler) and Irene (Karin Verdorfer) now pass on to the audience the life tips they learned in a couple's therapy - according to the motto: Eppes isch iberåll und "ninderscht isch nicht"!
After the huge success of the cinema film "Joe der Film", Thomas Hochkofler and Karin Verdorfer return to the cabaret stage. In the cabaret programme "Schaffa Schaffa, Häusle baue", Ginther and Irene gave the audience important tips on building a house. In the meantime, a few years have passed, there was a serious marital crisis between the two, whereupon they went to couples therapy - and now everything seems to be back on track.
After the joint couples therapy, the two know exactly how to have a really good relationship, and they are convinced that they have to pass on this knowledge - quasi as a social initiative to save couples. As absolute specialists in this field, they help the audience with this play to raise the quality of their relationship to a safe level.
So "Ninderscht isch nicht" is suitable on the one hand for couples or those who would like to become couples, but on the other hand also for singles who, after this play, either come to the realisation that they would prefer to remain singles after all, or simply that now is the right time to find a dream partner. Of course, couples who want to break up in style also receive valuable tips - according to the motto: "Ninderscht isch nicht"!