1/27/2023 - 10:45 AM Uhr
Youth theater: Löwenherzen (in german language)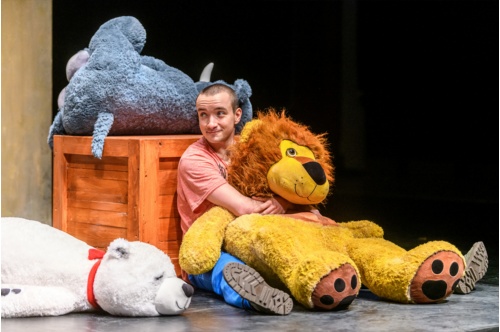 For the 1st to 3rd grade of middle school
Many children in this world need courage like a lion
The lion with the crooked eye is on his way to Europe - with an important mission: to deliver a letter from Anand to God. Anand is nine and has sewn the lion himself, in a factory in Bangladesh. One day he wants to be a magician, the greatest magician in the world. For that to happen, someone has to rent his mum's belly, then the family can buy a real house and he can go to school himself. During his adventurous journey around the world, the lion meets children in the most diverse social circumstances. In Germany, he meets Emma, who donates the lion to an aid organisation, so he ends up with Zula in Senegal, then with the refugee child Amari from Mali, the sea washes him to Louise in France, who is an Instagram star, via India he finally ends up with Anand again. All these children are strong and competent, don't let it get them down and find creative and visionary solutions for themselves and others - true lion hearts.
Nino Haratischwili, who comes from Georgia, is one of the most successful German authors of plays and novels. She has written this touching play about courage, hope and globalisation for the Consol Theater.
A guest performance by the Consol Theater, Gelsenkirchen
By Nino Haratischwili
World premiere production
Director: Andrea Kramer
Dramaturgy: Sylvie Ebelt
Set design: Stefanie Stuhldreier
Music: Radek Fidek
With:
Thomas Kaschel, Sibel Polat, Eric Rentmeister
Photo: Consol Theatre
Duration: approx. 1 hour
Prices:
5 € (pupils)
10 € (adults)
0 € (teachers accompanying school classes)