3/6/2023 - 10:45 AM Uhr
Youth theater: Good Game Gretel (in german language)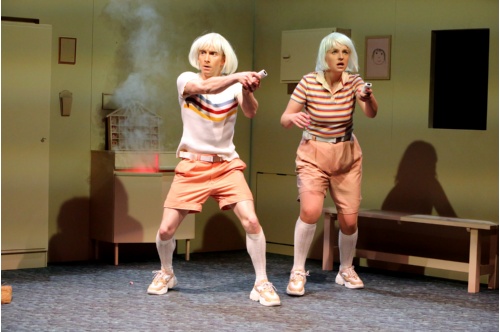 For 2nd and 3rd grade middle school as well as 1st grade high school and vocational school.
Computer game meets fairy tale
Poisoned apples, bleeding shoes, evil stepmothers - fairy tales are often cruel. The children in the fairy tales have to fight evil forces and solve difficult tasks before everything can turn out all right in the end. Children's adventure games today are very similar. Alina Rohde and Henning Jung, as performers on stage, set out on the trail of Hansel and Gretel and enter the dark world of fairy tales, which is also always a mirror of the present. They playfully question the story. Who could Hansel and Gretel be today? Why can't they go home? What problems do they have to solve and what dangers do they have to overcome? With the means of the computer game, they create their own fantastic world. A mixture of fairy tale, computer game and real experiences.
"Good Game Gretel" is about dealing with family problems and loneliness, but also about the desire to overcome obstacles in the game and to reclaim scope for action. With videos, rap and computer games, the production takes away everything dusty about the fairy tale and shows its references to today's youth.
A guest performance by Theater Marabu, Bonn
World premiere production
Development: Ensemble
Director: Christina Schelhas
Set design: Barbara Lenartz
Dramaturgy: Claus Overkamp
Theatre pedagogy: Melina Delpho
With:
Alina Rohde, Henning Jung
Photo: Ursula Kaufmann
Duration: approx. 1 hour, 10 minutes
Prices:
6 € (pupils)
10 € (adults)
0 € (teachers accompanying school classes)