11/30/2022 - 8:30 PM Uhr
Theatre: In quello strano paese (in italian language)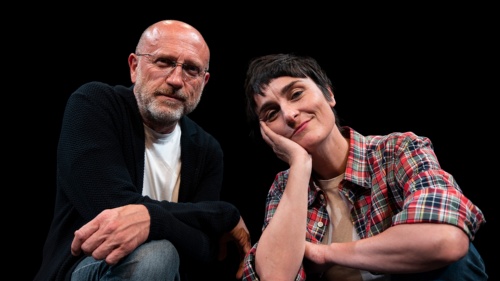 Second stage of a century of Alto Adige told in theatre 1945-1972
written and directed by Francesco Niccolini
with Marta Dalla Via
lighting design Luca Predenz
with the collaboration of Giorgio Delle Donne, Maurizio Ferrandi, Ettore Frangipane, Luca Fregona, Arnaldo Loner, Renato Mazzoni, Oskar Niedermair, Carlo Romeo
"In quella strano paese" is a theatrical story by Francesco Niccolini on the birth of Autonomy in South Tyrol in the form of a monologue, performed by Marta Dalla Via. It is the second stage in a trilogy of plays dedicated to the history and peculiarities of the South Tyrolean situation.
1991. In the days preceding the census, a South Tyrolean mother, married to an Italian man, tells her twin sons why they were given German and Italian names: thus begins Katharina's confession. A long intimate tale in which the woman interweaves the stories of the two branches of the family, the South Tyrolean branch to which she belongs and her husband's Italian branch, two very different, in many ways opposing stories. It will be her way to make peace with a difficult past and to cross the time from the options to the return to Italy of grandfather Kaspar with his wife Karin, hunger, disillusionment and poverty, and then the anger of his brother Oskar who will end up as a young man alongside the terrorists of the Night of the Fires. On the other hand, a grandfather quaestor who embodies the critical spirit towards the errors of government in post-Fascist Italy and who shows how uphill the road was for those who worked for dialogue and coexistence, amid misunderstandings, attacks, betrayals, demonstrations, arrogance, obtuseness and that very difficult negotiation that led to the Autonomy of 1972.
A production of the Teatro Stabile di Bolzano and Teatro Cristallo
Duration: approx. 60 min.
Information & booking:
Organization: Teatro Stabile di Bolzano
Teatro Stabile di Bolzano
Tel. 0471 301 566
www.teatro-bolzano.it
TICKET PRICES
full numbered seat € 19
reduced price tickets over 65 numbered seats € 14
concessions under 26 and CGN holders numbered seats € 9
reduced price for under 20s numbered seats € 6
TICKET SALES ON PERFORMANCE DAYS
from 7 p.m.
PRE-SALE TICKETS
In Bolzano at the municipal theatre box office and online at www.teatro-bolzano.it
From 2nd October tickets will be available for purchase at the following 13 branches of the Sparkasse, distributed throughout the region: the three branches in Bolzano (Gries, Point 12, Via Roma), in the Merano office, in Bressanone, Brunico, Vipiteno, Laives, Egna, Appiano, Silandro and, finally, in two branches in Trentino (Trento Palazzo Sani and Rovereto).
SUBSCRIPTIONS
14 shows
13 on view at the Forum
1 on view in Bolzano at the Teatro Comunale (free bus service reserved for subscribers)
THREE-YEAR SUBSCRIPTION
This year it will again be possible to subscribe to three seasons 2022-23 / 2023-24 / 2024-25 at a special price.
Full season ticket € 150 instead of € 195
Reduced season ticket € 123 instead of € 165
Season ticket under 26 and CGN holders € 67 instead of 90
Season ticket under 20 € 45 instead of 60
ANNUAL SUBSCRIPTION
Full season ticket € 65
Reduced season ticket € 55
Under 26 season ticket and CGN holders € 30 (second under 26 season ticket free)
Under 20 subscription € 20 (a second under 20 subscription is free)
The purchase of new annual and three-year subscriptions, reconfirmations of annual subscriptions and withdrawal of three-year subscriptions is possible:
Until 26 October in Bolzano at the ticket office of the Municipal Theatre at Piazza Verdi 40 (Tuesday to Friday from 11 a.m. to 2 p.m. and 5 p.m. to 7 p.m., Saturday from 11 a.m. to 2 p.m.) or by calling T 0471 053800.
Unused tickets are not subject to refund. Once the performance has started, no admission to the auditorium is permitted until the first intermission. Cheating does not guarantee the right to keep the seat indicated on the ticket.
For spectators with disabilities admission to performances is reduced and free for the accompanying person.
More information: www.teatro-bolzano.it