3/18/2019 - 8:00 PM Uhr
The Favourite (in german language)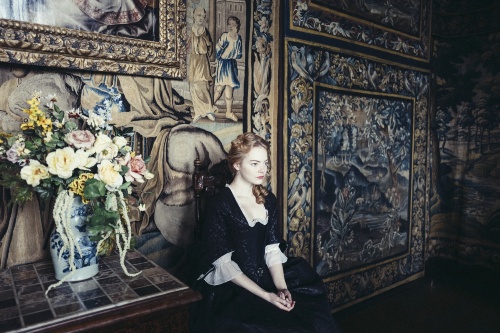 GB/IE/USA 2018, 120 min.
Director: Yorgos Lanthimos
with: Olivia Colman, Emma Stone, Rachel Weisz
In 1708, Britain is at war with France, and Queen Anne sits on the throne. In frail health, Anne shows little interest in governing, instead preferring eccentric activities such as racing ducks and playing with her 17 rabbits, each of which represents a child she has lost over the years. Her confidante, adviser, and furtive lover Sarah Churchill, the Duchess of Marlborough, effectively rules the country through her influence on the Queen. Sarah's efforts to control Anne are undermined by Robert Harley, a Tory Member of Parliament who, as a landowner, argues against a doubling of property taxes proposed in order to fund the war.
Meanwhile, Abigail Hill, Sarah's impoverished younger cousin, arrives at Court in search of employment. Abigail's standing is tainted by her father, who gambled away his good name and lost his daughter to a German in a card game. Abigail is initially forced to do menial work as a scullery maid in the palace, but, after seeing the Queen's condition, she spies an opportunity to ingratiate herself with Sarah and, eventually, Queen Anne herself: she forages for herbs to heal the Queen's inflamed legs, and though she is initially punished by Sarah for her presumptuous actions, Sarah relents when she realises the remedy does ease the Queen's suffering. In gratitude, Sarah makes Abigail her lady of the bedchamber.
Harley soon approaches Abigail, hoping to use her as a spy in order to find out what Sarah's schemes are and figure out a way to circumvent her authority. Abigail initially rebuffs him, but soon she becomes aware of the secret lesbian relationship between Anne and Sarah. As she is fascinated by the Queen's scandalous homosexual inclination, Abigail begins to court the Queen's favour herself.
With Sarah focused on the war effort, Abigail kindles a friendship with Anne, which soon becomes sexual. Sarah becomes aware of Abigail's machinations and attempts to have her sent away. Abigail drugs Sarah's tea, causing her to fall from her horse and be dragged into the forest. She vanishes for several days. Anne, thinking that Sarah has temporarily abandoned her to make her jealous, takes Abigail into her favour, where her first reward is to be allowed to accept a proposal of marriage from Samuel Masham, a baron in Anne's court. The marriage reinstates Abigail's noble standing as a baroness.
A battered and scarred Sarah awakens in a brothel. When she returns to court, she issues an ultimatum to Anne: send Abigail away, or she will disclose her correspondence with Anne that details their sexual relationship. The threat destroys the relationship between Anne and Sarah. Although Sarah voluntarily burns the letters in regret, she is stripped of her offices and sent away from court. When Abigail, now promoted to Keeper of the Privy Purse, presents what she claims to be evidence that Sarah has been embezzling money, Sarah and her husband are exiled from Britain. Abigail comes to realize the Queen now detests her for breaking her heart over Sarah.
Soon after Abigail's victory, her ego and gluttonous appetite for luxury start to inflate in the same way Sarah's had. One day while lounging in the Queen's chamber, Abigail deliberately treads on one of Anne's rabbits. Finally realizing Abigail's true nature, Anne promptly responds to this abuse by grabbing Abigail's hair and ordering her to massage her legs as if she were a servant.
Information & booking:
Organization: Filmclub
Tickets:
At 7.30pm in the foyer of the Forum Bressanone
More information: www.filmclub.it