10/11/2023 - 8:00 PM Uhr
Oedipus (theatre in german language)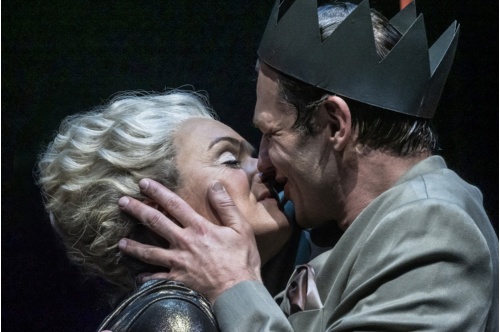 after Sophocles, in an adaptation by Felix Krakau
A guest performance of the Düsseldorfer Schauspielhaus
Director: Felix Krakau
Stage: Ansgar Prüwer
Costumes: Jenny Theisen
Music: Thomas Klein
Dramaturgy: Beret Evensen
With:
Oedipus: Florian Claudius Steffens
Creon, Laios of Thebes: Thomas Wittmann
Iokaste: Bettina Engelhardt
Teiresias: Markus Danzeisen
Chorus and other roles: Caroline Cousin, Moritz Klaus, Jacob Zacharias Eckstein
Of guilt, shame and power
The murderer of Laios, the former king of Thebes, is being sought. For only in this way can the city be freed from the plague, the Oracle of Delphi has prophesied. The new king, Oedipus, does everything in his power to find the murderer, until it turns out that he himself is the one being sought: unwittingly, he has slain Laios, his father, and later taken his own mother as his wife - thus plunging Thebes into the abyss. Within a day, the search for the truth leads to the dissolution of all certainties. For Oedipus was never who he thought he was.
Felix Krakau's production revolves around the question of how heavy guilt and shame weigh, when every action endangers the continued existence of a community, and how much one may repress in order to maintain one's own status. "With an inspiring collective of seven players, Felix Krakau takes the liberty of telling the well-known story of Oedipus and his misdeeds in a completely new way: by means of a clear, direct, humorous address to the audience, which immediately animates them and draws them irresistibly into the action." (Süddeutsche Zeitung).
Photo © Thomas Rabsch
Duration: approx. 1. h. 45 min. without intermission
Introduction at 7:30 pm!
Information & booking:
Organization: Südtiroler Kulturinstitut
Information and tickets:
Südtiroler Kulturinstitut
Tel. 0471 313800
Individual tickets can be purchased online or at the office of the South Tyrolean Cultural Institute, Schlernstraße 1 in Bolzano, or reserved by telephone on 0471 313800 or by e-mail (info(at)kulturinstitut.org) from 20 September 2023. Reduced tickets for students can only be purchased at the South Tyrolean Cultural Institute and not online.
Payment of individual tickets:
Reserved tickets must be paid for within 10 days of reservation. Payment can be made directly at the office of the South Tyrolean Cultural Institute or by bank transfer. As reason for payment please give the name and the reservation number you receive at the time of reservation. The paid tickets will then be sent to you by e-mail. You can present them at the entrance as a paper printout or digitally on your smartphone. If you do not have an email address, tickets will be deposited at the box office.
Bank details:
Raiffeisenkasse Bozen
SWIFT-BIC: RZSBIT21003
IBAN: IT 14 A 08081 11600 000300032026
Südtiroler Sparkasse
SWIFT-BIC: CRBZIT2B059
IBAN: IT 59 K 06045 11613 000000167000
Südtiroler Volksbank
SWIFT-BIC: BPAAIT2B051
IBAN: IT 83 J 05856 11602 051571271246

Standing room: Standing room is only offered at sold-out events, provided that the fire safety regulations at the respective venues allow it. They are available at the box office only.
Box Office: Box offices are open from 7pm on the day of the event.
More information: www.kulturinstitut.org