2/9/2022 - 8:00 PM Uhr
Marilyn (theatre in german language)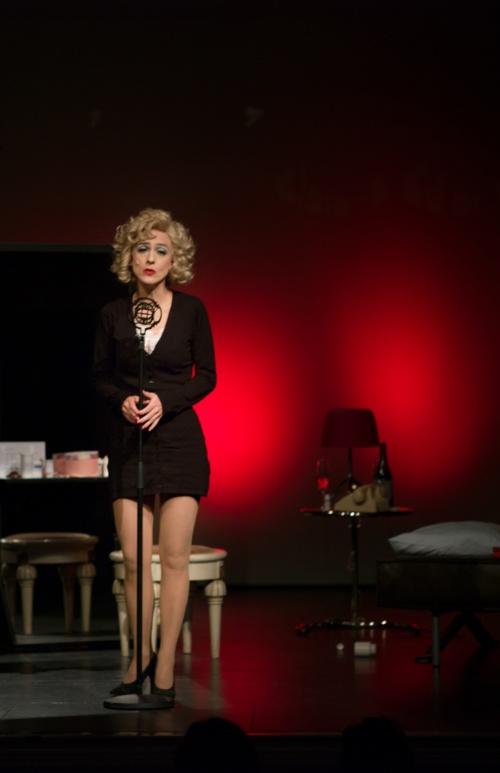 Note: "Marilyn" will be shown instead of the play "Der Sohn" by Florian Zeller. Subscription tickets remain valid.
A biographical theatre with music by Adrian Prechtel about the great Marilyn Monroe.
adapted by Christian Auer and Tanja Maria Froidl
With:
Marilyn Monroe: Tanja Maria Froidl
Bert Stern/Dr. Greenson: Hans-Jürgen Stockerl
Film lighting, bandleader, pianist: Christian Auer
Saxophone: Alexander von Hagke
Bass: Markus Schlesag
Drums: Andreas Csok
Director: Hans-Jürgen Stockerl
Arrangements, Musical Direction: Christian Auer
Photo © Claudius Schutte
Information & booking:
Organization: Südtiroler Kulturinstitut
Information and tickets:
Südtiroler Kulturinstitut
Tel. 0471 313800
SINGLE TICKETS: can be reserved from September 29, 2021 in the office of the South Tyrolean Cultural Institute, Schlernstraße 1 in Bozen, by phone on 0471 313800 or by email (info@kulturinstitut.org). In the 2021/22 season, this is the only point of sale, as all buyers must be recorded by name. The reserved tickets can then be paid for and picked up at the box office.
ONLINE: Unfortunately, you cannot purchase tickets online in the 2021/22 season.
STANDING SPACE: In the 2021/22 season, no standing space can be allocated due to safety regulations.
EVENING BOXES: The box offices are open from 7 p.m. on the day of the event.
PAYMENT: Individual cards can be paid for in cash, by debit or credit card (VISA, MasterCard).
More information: www.kulturinstitut.org