3/20/2019 - 8:00 PM Uhr
Juliet, Naked (in german language)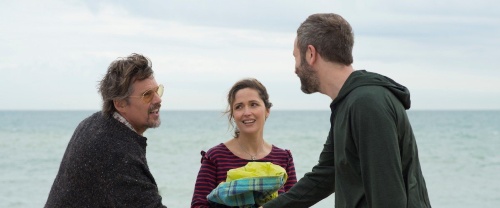 USA 2018, 105 min.
Director: Jesse Peretz
with: Ethan Hawke, Rose Byrne
Annie is in an unhappy relationship with Duncan, a college teacher who is obsessed with Tucker Crowe, an obscure musician whose last work was released 25 years ago. Duncan operates a fan site dedicated to Crowe. One day, a package arrives in the mail containing an album (titled 'Juliet, Naked') of solo acoustic demos of the songs on Crowe's hit album 'Juliet'. Annie and Duncan listen to it separately, and, after an argument with Duncan over its quality, Annie writes a negative review of the album on Duncan's site.
Crowe comes upon the review and reaches out to Annie through email, thanking her for her honesty. The two quickly form a rapport. Crowe writes to Annie of his regrets as being a poor father to five children with four different mothers. Likewise, Annie discloses her disappointment with not having had any children. Crowe lives near Jackson, his youngest son, and Jackson's mother, Cat, in America. Crowe is visited by one of his other children, Lizzie, who is pregnant. Lizzie offers Crowe the phone number of another one of his children - the only one with whom he has had absolutely no contact with, purposefully. Meanwhile, Duncan meets Gina, a new teacher at his college who shares his enthusiasm for the work of Crowe, and sleeps with her. Upon learning of this, Annie breaks up with Duncan.
Crowe soon journeys to London with Jackson to witness the birth of his first grandchild. He asks if Annie would like to meet up with him in person while he is relatively near her, and she agrees. However, Crowe suffers a heart attack and Annie ends up visiting him in the hospital, at his insistence. There, Annie meets Jackson and Lizzie and most of Crowe's exes and other children. Later, when Crowe has recovered and everyone else, besides Jackson, has left, Crowe suggests he and Jackson visit Annie's home, and she accepts. Duncan soon discovers Crowe with Annie, and, over dinner at Annie's, expresses his love of Crowe's work to Crowe's inherent displeasure and disregard.
After Duncan leaves, Crowe recalls that his first love, Julie, with whom he wrote his hit album, visited him at a concert where he was performing, with their child, Grace, and gave the child to him to hold and walked away. Crowe states that he panicked and abandoned the baby in a men's restroom. This was Crowe's last concert, as he could not bring himself to go up in front of a crowd and sing songs that he wrote about Julie anymore. Afterward, Crowe attempts to call and make amends with Grace, to no avail.
Crowe and Annie go to an exhibition that Annie was involved with. Annie bluntly confesses her romantic interest in Crowe, which he reciprocates. Annie's boss, upon being introduced to Crowe, decides to have him sing for the exhibition. Despite his discomfort, Crowe agrees to sing for the crowd, playing Waterloo Sunset by The Kinks. That night, Annie and Crowe have sex and, afterward, Jackson inquires as to when he will be going home to his mother. Crowe asks Annie to come with Jackson and himself, but Annie says that she cannot. She adds that Crowe cannot leave his child for her either, because this is his last chance to do right by his kids. Dropping Crowe and Jackson off at Lizzie's home in London, Annie says farewell. Back home, Annie is at a bar when Duncan arrives to plead for her forgiveness and ask for a fresh start. However, Annie declines.
A year later, Annie has moved to London and emails Crowe, sharing that she has decided to have a child on her own, something Crowe had suggested to her before. Crowe has since released a new album inspired by Annie. Annie invites Crowe to meet up with her, and he agrees. Concurrently, Duncan negatively reviews Crowe's new album on his fan site.
Information & booking:
Organization: Filmclub
Tickets:
At 7.30pm in the foyer of the Forum Bressanone
More information: www.filmclub.it