1/19/2022 - 8:00 PM Uhr
Die Wiedervereinigung der beiden Koreas (theatre in german language)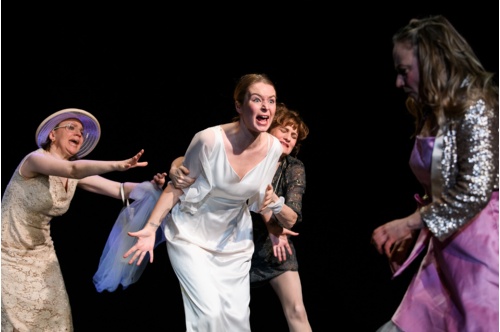 from Joël Pommerat
A guest performance by Metroplotheater, Munich
Director: Jochen Schölch
Stage: Thomas Flach
Costumes: Sanna Dembowski
Dramaturgy: Katharina Schöfl
With:
Butz Buse
Vanessa Eckart
Paul Kaiser
Nikola Norgauer
Hubert Schedlbauer
Thomas Schrimm
Dascha von Waberer
Eli Wasserscheid
Lucca Züchner
Photo © Jean-Marc Turmes
Duration: ca. 2 hours 30 minutes, with break


Introduction: 7:30 p.m.
Information & booking:
Organization: Südtiroler Kulturinstitut
Information and tickets:
Südtiroler Kulturinstitut
Tel. 0471 313800
SINGLE TICKETS: can be reserved from September 29, 2021 in the office of the South Tyrolean Cultural Institute, Schlernstraße 1 in Bozen, by phone on 0471 313800 or by email (info@kulturinstitut.org). In the 2021/22 season, this is the only point of sale, as all buyers must be recorded by name. The reserved tickets can then be paid for and picked up at the box office.
ONLINE: Unfortunately, you cannot purchase tickets online in the 2021/22 season.
STANDING SPACE: In the 2021/22 season, no standing space can be allocated due to safety regulations.
EVENING BOXES: The box offices are open from 7 p.m. on the day of the event.
PAYMENT: Individual cards can be paid for in cash, by debit or credit card (VISA, MasterCard).
More information: www.kulturinstitut.org