7/22/2023 - 8:00 PM Uhr
Concert of the "Südtiroler Jugendblasorchester"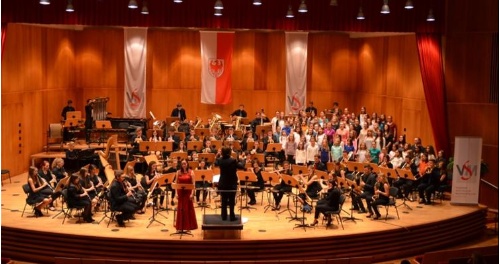 The "Südtiroler Jugendblasorchester" (SJBO) was founded in 2005 by the then youth leader of the "Verband Südtiroler Musikkapellen" (VSM) Pepi Fauster. Since then it has pursued the goal of giving well-trained, talented and music-loving young musicians from South Tyrol the opportunity to rehearse and perform versatile symphonic wind orchestra literature at the highest level under the direction of renowned conductors.

At the centre of the SJBO's activities is the traditional orchestra week in July, which is concluded with several concerts. Since its foundation, the orchestra has performed at the Innsbruck Promenade Concerts, at the "Mid Europe" in Schladming or at the "Gustav Mahler Music Weeks" in Toblach. In addition, numerous other initiatives have enriched the history of the SJBO. Several CD recordings of commissioned works by contemporary South Tyrolean composers and performances with outstanding soloists from the orchestra's own ranks are worthy of mention. A particular highlight was the premiere of Symphony No. 4 ("Symphony of Songs") by Johan de Meij, commissioned by the VSM in 2013. This imposing work provides for a mezzo-soprano voice and a children's choir in addition to the wind orchestra.

The first conductor of the SJBO was Karl Geroldinger. He conducted the orchestra for the first four years after its foundation. He was followed by Thomas Doss (2009 to 2011), Peter Vierneisel (2012 and 2013), Josef Feichter (2014 to 2017) and Isabelle Ruf-Weber (2018 and 2019). After the forced Corona break, the orchestra has again been under the musical direction of Karl Geroldinger since 2022.