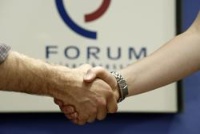 Optimal use of the existing capacities – excluding unpleasant surprises from the very beginning. Cost-efficiently, close to the audience and to the public.
Our coordinators at the Forum Bressanone organise every event in the background and in a very efficient way. They have the necessary training and experience for the ideal realisation of events and know the possibilities of our house.

Ask what forms and licenses you need to apply for and what safety regulations need to be observed.
On request, the employees of Forum Bressanone will accompany you throughout the entire event.