5/14/2022 - ganztägig
sapperlot - International Meeting of Youth theatre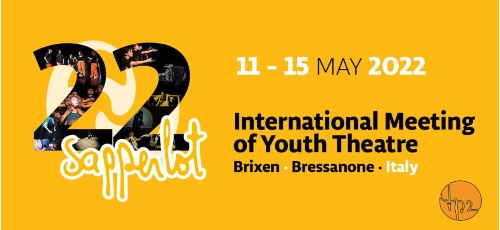 It is not natural for anyone to dare to organise an international theatre festival in these times and we too considered whether to take the plunge. But in the end, we have overcome ourselves to say yes. Yes, to a place where our young people can see that life is not only about disease and war, but that there is so much more.
Friendship, tolerance and living peace. Our host groups show us how. We imitate it. And we hope you'll all be there when it's sapperlot again from 11-15 May 2022! Youth theatre is a great thing!
WHAT IS SAPPERLOT?
The International Meeting of Youth Theatre "sapperlot" is an event of youth culture in South Tyrol (Italy) and at the same time a stock taking of the actual trends in the youth theatre in the world. We invite groups from all over the world, which are open to reflect their own work and to other theatre forms.
Discussions and workshops should give the participants the possibility to get in touch with other young people, to exchange ideas and to learn from each other. For the young people there are many possibilities to get in contact with the others.
The young people of the tpz - laboratories are pleased to host people from all over the world. The sapperlot is not only a festival of an organization but is organized by the young members of our different laboratories: a real youth festival. In the end the special atmosphere at sapperlot is because all participating groups work together to make it unforgettable.
Information & booking:
Organization: Theaterpädagogisches Zentrum Brixen
Informations:
T +39 0472 802305
M +39 333 2608102
It is compulsory to wear an FFP2 mask (from the age of six)!
More dates:
5/11/2022 - ganztägig
5/12/2022 - ganztägig
5/13/2022 - ganztägig
More information: tpz-brixen.org