9/13/2020 - 7:00 PM Uhr
Orchestra Festival Concert Youth Symphony Orchestra "Matteo Goffriller"
The Matteo Goffriller Youth Symphony Orchestra, fresh from its hugely successful concert tour in Yucatan, Mexico, in February of this year, is in the starting blocks after the lockdown of Covid, which limited its activities to "online" videos.
On the evening of the concert it will present a selection of works from this tour program entitled "A touch of Mexico". You can hear compositions by Bellini, Vivaldi, Mozart, Mascagni and a tribute to the recently deceased Ennio Morricone.
In addition, the orchestra will perform two works by the Mexican composer Roberto Abraham Mafud, which were specially arranged for the occasion. In addition to the orchestra's soloists, Augusto Palumbo, Anna Sofia Franceschini, Valeria Mussner and Annelies Gschliesser, Elisa Wallnöfer, a young, award-winning South Tyrolean concert pianist, will perform Mozart's Piano Concerto in A major KV 488.
Conductor: Stephen Alexander Lloyd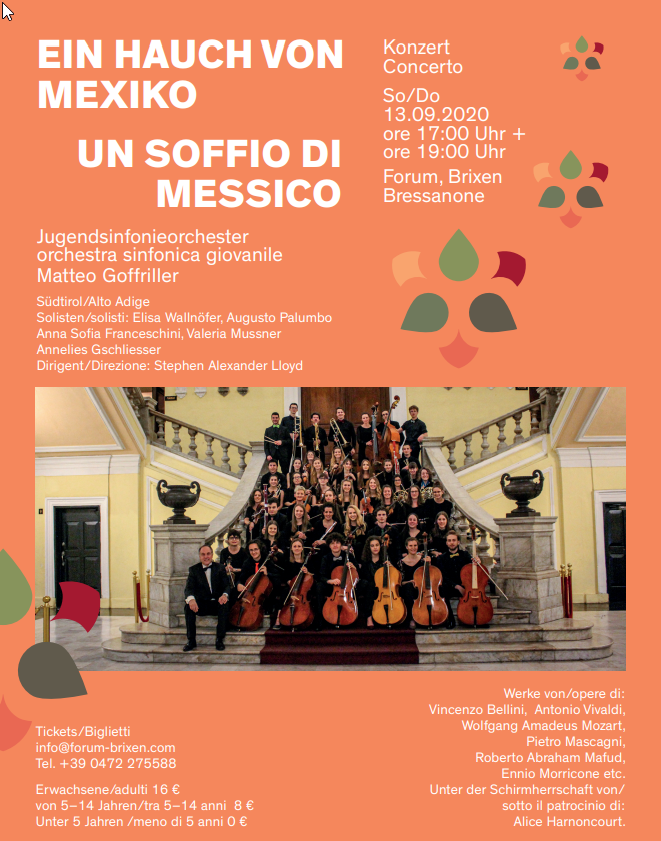 Information & booking:
Organization: Brixen Tourism Association
Ticket reservation & sale starting from Monday, august 31st:
Forum Bressanone
Via Roma, 9
39042 Bressanone
Tel. 0472 275 588
info@forum-brixen.com
Office hours:
Monday to Friday: 9-12am
Monday to Thursday: 2-4pm
Entrance fees:
Adults € 16
reduced € 8 (children up to 13.99 years)
free (children under 5 years)
More dates:
9/13/2020 - 5:00 PM Uhr
More information: www.brixen.org