3/12/2018 - 8:00 PM Uhr
Three Billboards Outside Ebbing, Missouri (in german language)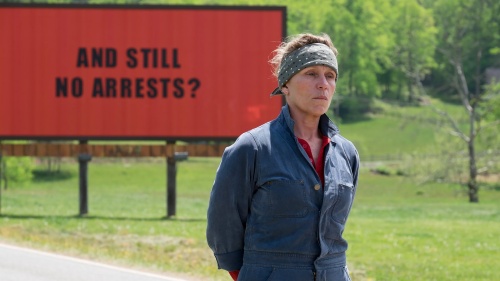 USA/GB 2017, 115 min.
Director: Martin McDonagh
with: Frances McDormand, Woody Harrelson, Sam Rockwell, Abbie Cornish, John Hawkes, Peter Dinklage, Caleb Landry Jones, Kerry Condon, Kathryn Newton, Samara Weaving
Mildred Hayes is grieving the rape and murder of her teenage daughter Angela seven months prior. Angry over the lack of progress in the investigation, she rents three abandoned billboards near her home, which read, in sequence, "Raped While Dying", "And Still No Arrests?", and "How Come, Chief Willoughby?" The billboards upset the townspeople, including Sheriff Bill Willoughby and the racist Officer Jason Dixon. The open secret that Willoughby suffers from terminal pancreatic cancer adds to their disapproval. Mildred and her depressed son Robbie are harassed and threatened but, to Robbie's chagrin, she stays firm.
While Willoughby is sympathetic to Mildred's frustration, he finds the billboards an unfair attack on his character. Angered by Mildred's lack of respect for his authority, Dixon threatens businessman Red Welby, who rented her the billboards, and arrests her friend and coworker, Denise, on trivial marijuana possession charges. Mildred is also visited by her abusive ex-husband Charlie, who blames her for their daughter's death.
Willoughby brings Mildred in for questioning after she injures her dentist in an altercation in his clinic. During the interview, Willoughby coughs up blood. He leaves the hospital against medical advice and spends an idyllic day with his wife Anne and daughters, before committing suicide. He leaves suicide notes for several people, including one to Mildred, in which he explains that she was not a factor in his suicide and that he secretly paid to keep the billboards up for another month, amused at the trouble this will bring her and hoping that they will keep attention on the murder. Mildred is threatened by a crop-haired stranger in her store. Dixon reacts to the news of Willoughby's death by assaulting Red. This is witnessed by Willoughby's replacement, Abercrombie, who fires him.
The billboards are destroyed by arson. Mildred retaliates by tossing Molotov cocktails at the police station, which she believes is unoccupied for the night. However, Dixon is there to read a letter left for him by Willoughby, advising him to let go of hate and learn to love as the only way to realize his wish to become a detective. Dixon escapes with Angela's case files, suffering severe burns. Mildred's acquaintance James witnesses the incident and provides Mildred with an alibi, claiming they were on a date. Dixon is treated for his burns and temporarily confined in the same hospital room as Red, to whom he apologizes.
Discharged from the hospital, Dixon overhears the man who threatened Mildred bragging in a bar of an incident similar to Angela's murder. He notes the Idaho license plate number of the man's vehicle, then provokes a fight. At home, he removes a sample of the man's DNA from under his fingernails. Meanwhile, Mildred goes on a date to thank James for the alibi; Charlie enters with his 19-year-old girlfriend Penelope and admits to burning the billboards. Mildred instructs Charlie to treat Penelope well and leaves.
Abercrombie informs Dixon that the DNA sample does not match DNA found on Angela's body, and that the man was overseas on military duty at the time of the murder. Mildred and Dixon conclude that the man must be guilty of some other rape, and set out for Idaho to kill him. On the way, Mildred confesses to him the police station fire. He admits that he knew but had already forgiven her. They express reservations about their mission but agree to decide what to do on the way.
Information & booking:
Organization: Filmclub
Tickets:
At 7.30pm in the foyer of the Forum Bressanone
More information: www.filmclub.it