11/27/2017 - 8:00 PM Uhr
The Party (in german language)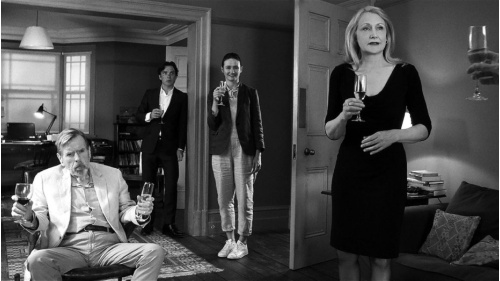 GB 2017, 71 min.
Director: Sally Potter
With: Kristin Scott Thomas, Timothy Spall, Bruno Ganz
Janet, a politician for the opposition party has just been announced shadow minister for health and is having a small celebratory party at her house. Invited are her friends April, with her estranged German partner Gottfried, a life coach and self-proclaimed spiritual healer, Women's studies professor Martha, with her partner, cook Jinny, and Janet's colleague and subordinate Marianne, with her banker husband Tom.
Before the party begins and even after the guests arrive, Janet's husband Bill sits in his chair, listening to music, staring vacantly, and drinking wine. All invited guests come, with the exception of Marianne, who Tom says will arrive later. Tom is extremely nervous and immediately locks himself in the bathroom, where he sniffs some cocaine, examines a gun he has brought with him and encourages himself in the mirror.
While the party is running, Janet is exchanging secret phone calls and messages with a lover.
After April, who continually belittles and insults Gottfried, speaks a toast for Janet, Martha and Jinny announce that Jinny is pregnant with three boys. This is immediately followed by Bill announcing that he has just been informed by his doctor that he is terminally ill. Gottfried tells him that modern medicine is not to be believed and that by becoming spiritual, Bill may have a chance of surviving. Bill, who is a well-known atheist intellectual, seems to waver in his commitment to his beliefs and begins to listen to Gottfried.
Janet says that she will resign from her shadow minister position and will take care of Bill, but he announces that he is leaving her for Marianne, a fact that Tom had also learned earlier this day. After berating Bill, Tom goes into the backyard, where he throws his gun into the dustbin.
While Jinny and Martha are talking about the future and motherhood, Martha patronizes Jinny, who, deeply hurt, tells Martha that she will leave her. This leads Martha to confess to Jinny that she fears what will happen and to plead Jinny to stay with her.
When Janet throws something in the dustbin, she notices the gun Tom had thrown away and takes it with her, locking herself in the bathroom and hiding the gun there. She lets April in and they talk about what happened. April, who has been cynical the whole time, is asked to speak honestly by Janet and tells her that she is proud of her accomplishments.
Gottfried tries to help and coach Tom and Bill, but their discussions escalate when Bill gushes about the love that Marianne and he share. This leads Tom to punch him in the face, knocking him out cold. Gottfried and Tom fear that Tom has killed Bill and they try to get help from the others. They fetch Janet from the bathroom, just when she was starting to tell April a secret. Janet manages to resuscitate Bill, who looks her in the eyes and asks "how did it come to this?" Just at this moment the doorbell rings, with everybody expecting it to be Marianne. Janet rushes to the bathroom, grabs the gun, runs to open the door, aims the gun at the visitor, who is invisible to the audience, and exclaims "you traitor, I thought you loved me," ending the film.
Information & booking:
Organization: Filmclub
Tickets:
At 7.30pm in the foyer of the Forum Bressanone
More information: www.filmclub.it